The advantages of the GuidiGO web app
Once you publish a tour in GuidiGO Studio, it becomes available in both the mobile application and the GuidiGO web app.
The web app is the simplest and fastest way for users to access a tour as they are not required to install an application.
The web app is particularly appropriate to use in the following situations.
1. ON THE MOVE: INSTANT EXPERIENCE
The web app users need to have an active internet connection - while the mobile app users can choose to access the tours either online or offline.
Upon arriving on site, the user is only required to launch the browser – no installation of any sort is necessary. The visiting experience is always optimized, regardless of the type of device, web browser or screen size.
Click the image above to access the demo tour in the GuidiGO web app.
2. IN THE CLASSROOM: STREET VIEW TOUR
Your tour is easily accessible on a computer or tablet. The Street View mode can be very useful in a classroom, allowing you to take your students on a visit to a cultural or historical site anywhere in the world, for instance, to Rome: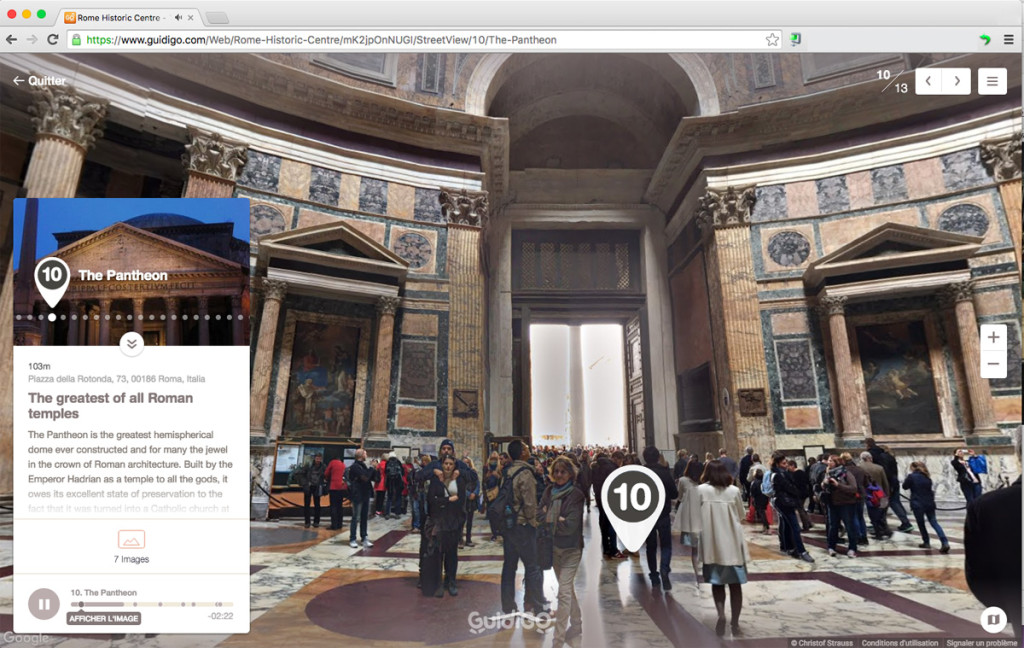 3. AT HOME
From a computer or tablet, your tour becomes accessible to everyone who cannot physically visit a certain location, be it for economic, geographic or health reasons. It is also useful for getting a general idea about a place before deciding to visit it.
Find out more about publishing your tour in the GuidiGO web app
here
.
---
---